Paul Rogers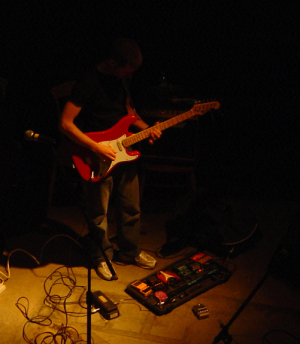 Born and brought up in South Wales, Paul started playing guitar when he was nine and acquired his first electric guitar when he was eleven – he still hasn't got round to buying a new one. In high school he formed a band with friends James Clarke, Rob Evans, Ed Dix and Mat ? called 'The Perks' who managed to do a few gigs in school and Clwb Ifor Bach in Cardiff before splitting up as everyone went off to university.
Paul left his electric guitar behind as his amp was too heavy and went to Bangor University, North Wales to study music. He learnt the lute and also became interested in Welsh and Irish folk music, playing fiddle and mandolin in pub sessions. In Bangor, he met his wife-to-be Simone Renshaw a flautist and whistle player from the Isle of Man and Paul and Simone formed a folk group called 'Bwganod' with Jon Aveyard on bodhrán, Pete Brewis on guitar and Iestyn Evans on vocals and spoons. 'Bwganod' were very hard-core and gigged an old people's home and were moved on by the police when busking in Conwy.
After university Paul came to live with Simone on her native Isle of Man and continued with folk music, but had started wanting to get back into electric guitar playing so put an ad in local music shop to try and start a band. Bassist Andrew Clucas ('Odie') answered the ad but unfortunately he had to leave the Island before a band could be formed and Paul decided to concentrate on folk music, but now on acoustic guitar rather than fiddle or mandolin.
Paul and Simone soon formed 'Status Idle' with Gordon Dickens and 'Steal My Spam' with Gaelic Ozzy singer Sophia Dale, who performed at local folk festivals and gradually became 'Skeeal Foddey' finally consisting of Paul on guitar, Simone Rogers and Breesha Maddrell on flutes and Sophia Dale on vocals. Sophia moved away from the Island so Manx Gaelic singer Phil Gawne joined and the band became know as 'Skeeal' and released a CD called 'Long Story'.
The CD was recorded by Mark Cleator, who at the time was in the middle of recording 'TATE!'s album 'Love and War'. Paul and Mark were to cross paths repeatedly as Mark was regularly providing the sound for folk music gigs where 'Skeeal' were playing. Mark recognised that there was a frustrated rock guitarist masquerading as a folk musician, who broke far too many strings and played far too loud for normal folk music so mentioned that his band 'TATE!' needed a lead guitarist.
Paul said yes and immediately went out and spent all his money on guitar effects pedals and whiled away his summer holiday working out all the guitar parts on 'TATE!'s album 'Love and War', but still hasn't bought a new guitar.
Back to About TATE! page