Mark Cleator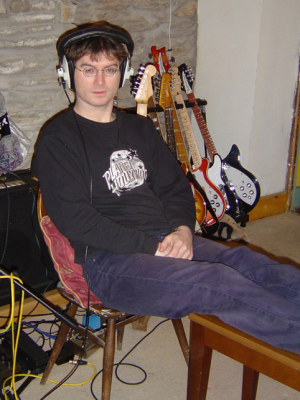 Born on the Isle of Wight, but raised from a young age on the sunny Isle of Man, Mark was exposed to electronics from a young age, leading to an early fascination with computers and, soon after, synthesizers.

The construction from a kit of a Clef B30 microsynth, care of Practical Electronics magazine, shortly followed by the matching Drum Machine, lead directly to the inevitable teaming up with Phil Reynolds, another young and impressionable runt who to this day clearly knows very little about music.

That was in 1982, and now, over 25 years on they are back together creating the joyous, original, dislocated, dislectic, eratic, melodic, beautiful yet painful cacophony known collectively as TATE!, accompanied by a similarly sick and misguided pair of peculiar individuals, Martin Rigby and Paul Rogers, who, in a manner not dissimilar to limpets have managed to irreversibly attach themselves to the unstoppable phenomena that is before you now.
Mark's first band, accompanied by Phil and one Richard Roger Spencer Butt (Dick Rogers Butt, honest!) was the seminal STANDING TACTICS. Referred in the press of the time (1983) as an 'Organ Based Band' (this is the Isle of Man you know) they attempted, questionably, to push the boundaries of what was possibly with virtually no equipment. Sadly handicapped by a less than healthy obsession for Ultravox! There was a world of difference between what was imagined, and what could actually be heard. However, due to Mark and Phil's interests in all things technical, many many hours of Standing Tactics oft industrial sounding musical meanderings still exist for all to enjoy, should the need ever exist.

The Ultimate ROCK version of S.T. appointed the assistance of John Galbraith on Bass (he will agree he was crap at the time, given how good he is now!), Martyn Thomas on Electric Guitar (who has always been stunning, the b….) and Mark Green on Drums. Also 'hired' in these early performances were Colin 'Mugly' Mather on Bass, and John Kinley on Drums.
Phil left this band on the flip of a coin and that is where the musical influences of Phil and Mark shoot of at 180 degrees to each other, for nearly 20 years!

After a brief encounter with an inactive covers band (The Rob Kenna Band, featuring the be-slippered drummer John Deeming, the long fingered accountant Paul Hotchkiss and the knackered fingered Kramer Bass player, Martin Jones, Mark ended up in another original band…. Massive.

Up until this point in time (1995) mono synths were there only instruments available to Mark, thus widdly widdly wakemanesque soloing was developed to the extreme!

Massive comprised:
Simon Fletcher – vocals,
Selwyn Callister – guitar,
Nigel Sinclair – Bass,
Mark Cleator – keyboards, and
Mark Green – Drums.

By this time a Korg Poly800 synth had been borrowed, and Mark G had invested in a spectacular 'Simmons' electronic drum kit. Wooo. The upshot of this was that nice big synth pads could be played along with widdly widdly wakemanesque solos and boingy boingy Simmons drum sounds. Ace.
Mostly original songs penned pre-Mark, by Selwyn in an earlier incarnation (he used to be a bat) and Simon, Massive also attempted (quite respectably actually) various covers by The Cars, The Police and China Crisis.
Lack of band activity led Mark to move on to another local band in need of a keyboard player, Second Image.

Second Image was the brain child of Roy Hall and Rob Casement. It had a black cat suit clad babe by the name of Cat Jenkins, who could play proper piano, but still they replaced her with Mark. A very strange episode indeed, and one that requires further explanation methinks!

This band was undergoing a total 'refit', sotospeak, the final gigging line up under a new name, was as follows:
Rob Casement – Guitar/Vocals/Songwriting,
Roy Hall – Guitar,
John Galbraith – Bass,
Mark Cleator – Keyboards and
Brian Isaacs – Drums.

The band was called The Time Bandits, and Phil HATES them.
Brian also took delivery of a boingy boingy Simmons drum kit, so Mark could again perform his widdly widdly wakemanesque solos over more nice big synth pads, eventually generated by a Roland JX8P (for those that care – the soloing was using a Yamaha CS5 with the filter turned down, through a home made fuzz box – it sounded a bit like a Minimoog!)

A 4 song Demo was recorded at Linden Studios in Shap in February 1997, received to critical acclaim by the musically hungry Isle of Man.

The joining of one Samantha Warwick, on backing vocals caused obvious rifts within the band, which by mid 1997 collapsed. Mark however jumped to the questionable safety of THE BLACK RIDERS, a tight, established riffing rock outfit that showed much promise for a widdle hungry keyboard player with nowhere to go.

The Black Riders initially comprised:
Darryl Fayle – Vocals / Lyrics
Paul Daugherty – Guitar
Alan Gillis – Bass
Chris Lamb – Drums.

Mark Cleator joined as keyboard player, and quickly began helping to shape the future sound of the 'Riders'. A demo was recorded at Ebony Studios in Selby, nr York, in November 1997 of one song – Addiction.

Sadly, soon after this demo, Alan Gillis committed suicide, and subsequently Chris left the band. Odd that.

Ali McCullough was taken on to play Bass, and
Stan Matthews (actually another Mark) was the new Drummer.
New songs were penned in record time, as the creative input on this line up was immense. An Album 'The Chosen Few' was recorded, again at Shap on 16 track, in February 1988, and released, on Vinyl, just in time for TT Week 1988. This album is now rare and valuable, as recognised in Record Collector each year.

In 1989 Ali began to get unreliable, and he was replaced by the excellent Robbie Samson, who added an new edge to the already tight rhythm section, and a whole new bunch of songs were crafted.
By the end of 1989 Daryl was not up to scratch, and at the recommendation of Chris Norman (of Smokie fame) during the next batch of recordings he was asked to leave the band, eventually to be replaced by Simon Rae.

The band changed it's name the EMPIRE, but played it's final gig in TT1990, in a marquee in Port St Mary that was for 'Samson' (the band, not the bass player!) the night before – Meat Loaf was playing the same night in Douglas so though great, the Empire gig was poorly attended. Simon left the band soon after this gig due to a need to sing songs in the style of Go West, and the band split.

A year went by where Mark simply composed tunes on a modern PolySynth, and then the urge to play in bands lead to him joining a miscellaneous covers band , known as the Rubber Helmets (Possibly!), comprising:
Gary Hilton – Vocals
Mark Cleator – Electric Guitar
Malcolm Atkinson – Bass
Steve the Zerox Man – Keyboards
Dave Charnley – Drums
This band did one or two gigs, then just fizzled out!

Mark then joined Ways of Steven, as Bass Player.

Mike Seed – acoustic guitar/singer/songwriter
Selwyn Callister – Electric Guitar
Dave Charnley – Drums
Mark Cleator – Bass

This was a quirky little unit lead by the genius of Mike Seed, who taught Mark the value of the 3 chord pop song, and the effectiveness of simple tunes and arrangements. However, after about a year of work, Mark was sacked due to unreasonably wishing to play more than one note through the song on his bass guitar, to be replaced by Simon Pott, who was more than happy to oblige!

Mark then moved on to electric guitar, playing in a cover band purely designed for TT1985

Manned by:

David Johnson - Vocals
Mark Riley –Lead Guitar
Mark Cleator –Rhythm Guitar
Martin Jones – Bass
Chris Lamb – Drums

Again, this band was short lived.

1996 was the birth of the Bow Strings and by early 1997 mark had been drafted in as Bass Player. Whilst always in permanent contact this is where Mark and Phil really realised the potential when in the same band.

Dwayne Taylor – Singer/Songwriter
Phil Reynolds – Ricky 12 string/Keyboards
Mark Cleator – Bass, Lead Guitar, Keyboards
Gordon McKenzie – Drums

A totally original band, with clever arrangements and strong melodies, the boys really felt they had something…
Then unfortunately Gordon had to go, but fortunately was replaced by the leather thonged attitude that is… Trevor Parkes.

Briefly, the lovely Greeba Skinner performed backing vocals, but left the band for personal reasons.

The B.S. were growing in popularity locally until one day Dwayne decided that the audience didn't deserve him, and that was that!

By this time Mark was writing many songs with an acoustic guitar, and was performing solo at various events throughout the Island. Often referred to as 'the bellowing years' a live attitude, and vocal style was developed, gaining some respect form the more 'serious' musos form the Island.

Also during this time Mark was being permanently nagged to join Roy Hall's (see Time Bandits) rock outfit called Exodus, as a keyboard player.

Declining, he teamed up with Chris Corlett to do duo work. Quickly this grew into a full band with Mark on Keys again (reluctantly) :

Chris Corlett – Vocals/Guitar
Paul Hannay – Bass
Steve Courtie – Guitar
Trevor Parkes – Drums
Mark Cleator – Keyboards

This band rehearsed a tight set of originals and covers, but was to disband, leaving Mark no excuse not to play with …

Exodus, as follows:

David Johnson – Vocals
Mike Boyd – Lead Guitar
Roy Hall - Guitar
Wayne Harrison – Bass
Brian Isaacs – Drums
Mark Cleator - Keys

A standard 70's style rock band, they offered nothing original at all, but were very popular. Wayne, who played in about 350 bands simultaneously, became strangely unreliable, and was eventually replaced by the enormously talented Simon Harvey, who as a guitarist of some worth, could lend his hand to the bass with ease.

This band slowly metamorphosed into a Deep Purple tribute band, and was renamed Shades of Purple.

Simultaneously, Mark put together the Mark Cleator Band (original eh!), to perform rocked up versions of the songs previously performed acoustically:

Mark Cleator – Singer/Songwriter/Guitarist
Martin Jones – Bass
Trevor Parkes – Drums

Only one gig, at the Bushy's Blues festival in May 2000 was performed by this line up, before Martin once again trapped his already knackered finger in a large machine, rendering him unable to play the bass (or that's his excuse). Phil Reynolds was finally persuaded to join as bass player, and after a while Trevor became unreliable, allowing his obvious replacement with the great Martin Rigby, misguided from a young age by Phil and therefore ideal as a permanent fixture. An additional bonus for the band was an immediate drop in the average age by about 50 percent!

The band needed a name, and for reasons explained elsewhere, that name was the Mighty TATE!
Back to About TATE! page